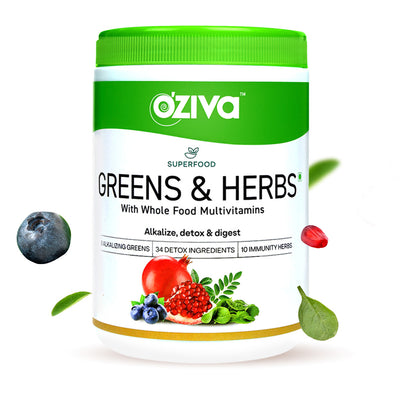 LOVE IT !!
Superfood Greens and Herbs made me feel better and better with each consumption. It's made of detox ingredients and does make you realize the internal cleaning slowly. I've been using Oziva Greens for about over 15 days and I surely have a difference in me compared to day one. It worked good for my acne and hair. Ever after I started using this product ,less intense acne.. I could find on my face having said that I m following my regular diet Since i have severe acne issue.. now along with this .. rarely I could not see big acne bump on my skin and my skin became more clear. Also, apart from this it has helped me in
✔️it boosts immunity ✔️it gives you great skin quality as it removes all the toxins from the body
✔️it clears bowel movement ✔️conquers acidity remarkably ✔️cleans the whole system.They also have a digital fit assist technique which helps you understand and follow a proper diet plan. I am in love with this product
Hi Rekha,
Thank you for taking the time to leave us this excellent review! We are ecstatic to hear that our product has worked wonders for you.
Our whole team works very hard to keep our customers happy, but we can only do it thanks to amazing customers like you.
Thanks again, and we hope to guide you in the process of making a better version of yourself! #aBetterYou
Hello,
Thank you for sharing your experience. Glad you are liking OZiva ❤
Hope to be with you on your #aBetterYou Journey for a long time.
Best,
Team OZiva
Looking for the best detox drink, then this is it.
This is the best detox drink.
I have it daily after my workouts.
It immedietly boost me up and i feel so energetic.
Its been past 15 days i am having it, taste is okay but most important it removes toxin from my body and makes my skin glow..wat else needed.
Super affordable compared to other brand.
Hi Hina,
Thanks for the astonishing review❤️
We'd love to continue providing great plant based products at affordable price to awesome customers like you.
Thanks again! :)
Do check our cash & deal page for amazing discounts.
Team OZiva
Great Nutritionist
Big Thanks to nutritionist Jyoti Dutta for answering all of my queries and providing me with a diet plan too. Recommended Greens & Herbs. Oliva also provided me with a coupon code for 20%. Happy to purchase the products. Will share the experience after 3 months of the consumption.
Hi Inderpreet,
Thank you so much for your positive feedback!
We are happy that you are satisfied with the consultation services with one of our nutritionists and we'd love to continue providing great products and services to awesome customers like you.
Also, we too are so excited and cannot wait to hear back from you on your experience after a few months.
Hope to be with you on your #aBetterYou Journey for a long time.
Team OZiva
Wonderful
For overall good health this is a must have product. The only product that got covered your daily dose of multivitamin and greens. A perfect blend that helps to detox and cleanse, boost energy, better digestion and brain and heart health.
Within one week of use I am seeing noticable difference in my overall health.
Go for it.
Hi Anita,
It's lovely to hear your kind words of appreciation for our product.
Thank you for trusting us and we hope to be with you on your #aBetterYou Journey for a long time.
Do check OZiva Prime for a personalized consultation, lifestyle guidance & free diet plan.
Team OZiva
Choosing a selection results in a full page refresh.
Press the space key then arrow keys to make a selection.