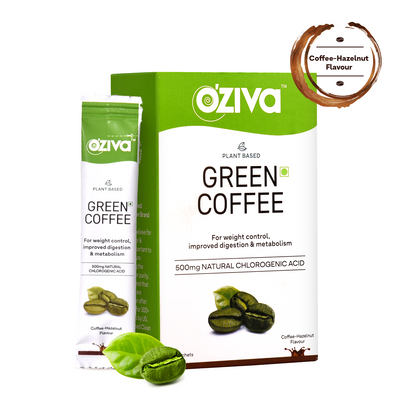 That's my Cup of Brew now
Surely Better Weight Control, Improved Digestion & Metabolism. I've swtiched to Oziva green coffee from my regular tea. Feel energetic healthy and lit more fit now
Hi Anu,
Your words lifted our spirits :) We are glad that our product worked wonders for you and it means so much to us when customers appreciate our product. Your review just made our day. Thank you so much!
Hope to be with you on your #aBetterYou Journey for a long time.
Team OZiva
Simply superb
It definitely helps in digestion n weight loss makes one feel light n good
Hi Jean,
We're happy you are satisfied with our product. It means a lot! We are proud that we were able to meet your expectations!
Thank you for taking the time to share your feedback. Your kind words encourage us greatly.
Do check our cash & deal page for amazing discounts.
Team OZiva
Is it true that green coffee reduces the time of ketosis
I heard that they found that green coffee reduces the time of ketosis to 40-50 min from 7-14 days ultimately aiding in weight loss...does this product too aid in weight loss.
Hi Surekha,
We'd like to inform you that OZiva Plant Based Green Coffee enriched with Fructooligosaccharides helps manage weight, improves digestion & metabolism. With standardized green coffee extract, it provides up to 500mg of natural chlorogenic acid in a refreshing flavour of coffee hazelnut.
How to use :
Add 1 sachet in 150ml of hot water.
Mix well and enjoy it!
Consume regularly for 3 months for best results.
For more details, please connect with our expert team by clicking the link https://bit.ly/3LjsuQS and someone from our support team will connect with you at the earliest and assist you better.
Don't forget to check our cash and deals page for the latest discounts, coupon codes, and more.
Team OZiva
Lovely coffee; I've been drinking it for a month and have noticed amazing changes in my physique. This coffee is all natural and helps with weight loss, and digestion, and improves metabolism. And this comes in my favorite hazelnut flavor.
Hi Prisha,
Thank you for the positive feedback. Glad you are loving our product! ❤
Your review means a lot to us and lets us know we're on the right track!
Hope you stick with us for years to come.
Team OZiva
Amazing coffee, I have replaced this coffee with my regular one. It tastes so better than regular coffee. I am seeing superb changes in my body. This green coffee is a healthy way of consuming caffeine. You should definitely try this coffee.
Hi Swara,
Thanks for sharing your positive experience! Feedback like yours is valued by our team as it gives us the motivation to continue developing our products.
We really appreciate you being a customer and helping to share the word about us.
Team OZiva
Choosing a selection results in a full page refresh.
Press the space key then arrow keys to make a selection.