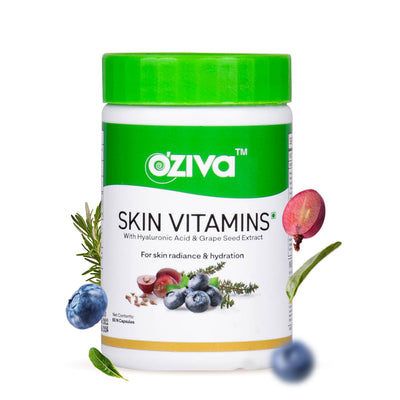 Oziva vitamins
Oziva vitamins product is temporary or permanent?
Hi Sushma,
We are so grateful for your 5-star review!
We wish to notify you that the results differ from person to person and depend upon the severity of your condition as well hence the product should be consumed for at least 3-6 months along with a proper diet and lifestyle for the most promising results.
For more details, please connect with our expert team by clicking the link https://bit.ly/3LjsuQS and someone from our support team will connect with you at the earliest and assist you better.
Team OZiva
Must buy product
This is my second purchase.....must try this product..I used it form 3 months..my skin feels so nurish..gives me a extra glow in my face... packaging is good...n the best part is its a 100% natural.....go for it without second thought..
Hi Amisha,
We are glad that our product worked wonders for you and we appreciate the time you took to write such a detailed review about it
It's our goal to make your experience seamless and it's wonderful to hear that you liked the product packaging.
Thank you for letting us and the community know about your fantastic experience with our product.
We're very grateful for customers like you and hope you stick with us for years to come!
Thanks again!
Team OZiva
Hi Kabi,
Thank you so much for your kind words. We're thrilled to hear you enjoyed our product.
Your review made our day and motivated us to work harder.
Do check our cash & deal page for amazing discounts.
Team OZiva
Hi there,
You have to take 2 capsules of Skin Vitamins per day and you can take it in the morning on an empty stomach [30 minutes before breakfast]
You should continue its consumption regularly for at least 3-6 months along with a proper diet and lifestyle for the most promising results.
Thanks for supporting us with a 5 star rating! ❤
Team OZiva
I have already re-purchased it for 3rd time!! I am really happy with the results. The Packaging is really good. The quality of the capsules is top-notch. Also, the main thing I love about these capsules is that they are 100% natural and vegan. I am really glad that I purchased these capsules. Also, the quantity which you get at this price point you really can't complain.
Hi Mayra,
It gives us much pleasure to know that you've chosen to buy the product 3rd time. Your kind words encouraged us to continue doing our best.
We're happy that you're happy and we would love to continue providing great products to awesome customers like you.
Hope you stick with us for years to come! ❤
Team OZiva
Choosing a selection results in a full page refresh.
Press the space key then arrow keys to make a selection.