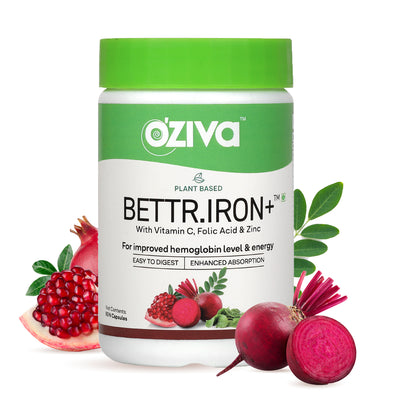 The Best Product Ever!
Thanks to Oziva Bettr Iron. My haemoglobin level was 6. something in April. Now it is 12.2. Alhumdulillah. I am so terribly afraid of allopathic medicines. They almost devastate health by dampening symptoms. I don't want to get into any argument over this. Pop in an allopathic pill for one condition, and at least 3 to 4 side effects raise their ugly hydra head. This has been my own bitter experience for the last four to five years. No one knows it better than me. I took Dexorange capsules, but the results were slow (almost stuck). God bless this company for taking women's health issues seriously. May the company always remain so and thrive.Amen. 🙏
Hi Dr. Ayesha,
Thank you so much for the positive words! You truly made our day.
We are so happy to know that our product has helped you out.
We are glad, we could make a difference.
Hope you stick with us for years to come! ❤
Team OZiva
Diet
Is this also useful for diet ?
Hi Mona,
Yes, OZiva Bettr. Iron+ is very useful if you include it in your daily routine.
OZiva Plant-Based Bettr. Iron+ is made from 100% natural & plant-based ingredients specially designed to improve hemoglobin levels and energy in the body.
It promotes better Iron absorption with standardized plant extract of Vitamin C and supports repair and reactivation of red blood cells, helps increase blood iron and hemoglobin levels with an Iron blend.
Additionally, it increases hemoglobin's oxygen-binding capacity with Zinc-rich plant extracts
You will need to take 2 capsules daily and it is advised to keep at least 2 hours of gap between iron supplement and other medications.
You should continue its consumption regularly along with a proper diet and lifestyle and you should start seeing visible results within 3-6 months.
For more details, please connect with our expert team by clicking the link https://bit.ly/3LjsuQS and someone from our support team will connect with you at the earliest and assist you better.
Don't forget to check our cash and deals page for the latest discounts, coupon codes, and more.
Team OZiva
Go for it without any doubt
Hi,
Thanks to Oziva.
I was anemic and was having 5.5 hemoglobin percentage. With god's grace I found Oziva. Used it for complete six months and today in my haemoglobin test 9.9 points.
Oziva gave me an assurance of medication and 💯 no side effects
Thank you once again
Hi Rajni,
Thank you for the positive feedback. Glad you are liking our products! ❤
Your review means a lot to us and lets us know we're on the right track!
Hope you stick with us for years to come.
Team OZiva
Pigmentation
Is this also for pigmentation?
Hi Mirgank,
Thank you for supporting us with a 5 star rating! ❤
We wish to inform you that OZiva's Bettr. Iron+ is not for pigmentation and is specially designed to improve hemoglobin levels and energy in the body.
For pigmentation, we would suggest you go for Plant Based Matcha Plus or Absolut Even Anti-Pigmentation Face Serum.
For more clarifications, please feel free to reach out to us by clicking here http://oziva.info/65ca05f7
Team OZiva
Acha product hai par pls sahi samay bataye khane ka
Hi Rohan,
We are so glad to know that you are liking our product. Your kind review made us very happy! ❤
Also, please be informed that Iron is best absorbed on an empty stomach and hence, you can take 2 capsules of Bettr. Iron+, one hour before or two hours after meals
Team OZiva
Choosing a selection results in a full page refresh.
Press the space key then arrow keys to make a selection.