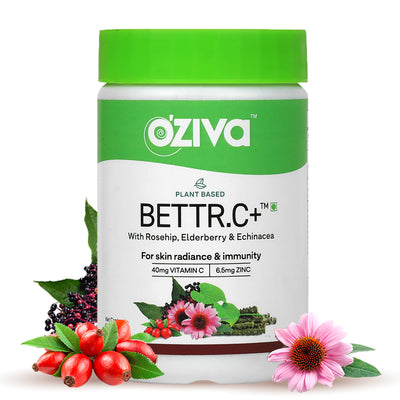 Hi Neo,
Thank you so much for your positive feedback! We're thrilled to hear that our product has worked wonders for you. Your review made our day! Our whole team works very hard to keep our customers happy, but we can only do it thanks to amazing customers like you.
Thanks again, and we hope to guide you in the process of making a better version of yourself! #aBetterYou
Hi there,
You can take 2 capsules of OZiva's Bettr.C+ daily on an empty stomach in the early morning or 30-45 mins before the meal.
Thank you for supporting us with a 5-star rating. You truly made our day!
Team OZiva
I purchased this product as a healthy gift for my wife.
When she first saw the product she was amazed by the packaging.
She likes the ingredient profile as it combines all the supplements she takes into one product. It only took two weeks of using this for me to start seeing the results. Wish I found this sooner.
She just loves it.
Hi Shishir,
Thank you for trusting us and gifting our product to your wife.
We are so glad to know that she liked our product, its packaging as well as the ingredients.
A review like yours is valued by our team as it gives us the motivation to continue doing our best ❤
Team OZiva
I have been eating vitamin C rich fruits for years now, and now with this Oziva's plant based Vitamin C I got my daily vitamin C needs in a natural form just like fruits and it has been very helpful in building immunity specially in the times we're in, It's health benefits are incredible, it's by far the best vitamin supplement you can buy. It's totally worth your money. 😊
Hi Meenakshi,
We are glad that our product has worked wonders for you, we really appreciate the time you took to write such a great review!
Thank you for letting us and the community know about your fantastic experience with our product.
We're very grateful for customers like you and hope you stick with us for years to come!
Thanks again!
Team OZiva
For Skin radiance and immunity
For skin radiance and immunity
Who doesn't wish for clear glowing skin and high immunity!!
So there you go guys..
I like it cause it is easy to swallow. I will buy it again for my family. As we are vegetarian these supplements are great for us.
Have this !! And see the results by yourself!!!
Hi Dr. Sonal,
Thank you for the fantastic review! We are glad you liked our product.
Providing clean nutrition and top-notch products to our customers is our top priority.
We appreciate you being a customer and helping to share the word about us.
We're here for you anytime.
Do check our cash & deal page on our website for amazing discounts.
Best,
Team OZiva
Choosing a selection results in a full page refresh.
Press the space key then arrow keys to make a selection.