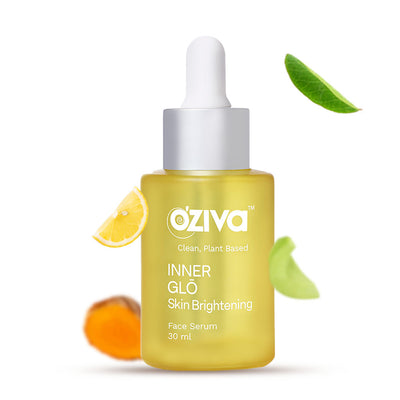 It's suitable for oily to sensitive skin 😍
Oziva Every single product is very good and I always use for lifetime 💓💓 my skin also oily to sensitive, I ordered it after seeing the review before using it..and it suits my skin and also controlled the acne pimple coming....it's become my habit oziva💓😍🙏🏻
Hi Anuradha,
Thank you for this heart-touching review. It has been our absolute pleasure to serve you.
We are glad we could make a difference in your daily skincare routine.
Hope to be with you on your #aBetterYou Journey for a long time! ❤
Team OZiva
5 star to this product
Inner Glō Skin Brightening Face Serum, (with Phyto Vitamin C, Rosehip Oil, Turmeric & Saffron) for Even Tone, Radiance & Skin
Hi,
Thank you for giving our product a 5-star rating. Your kind review encouraged us greatly.
Well, we'd love to continue providing great products and services to awesome customers like you.
Happy shopping, Have a great day! ❤
Team OZiva
Amazing Product
Main is serum ko two weeks use karne ke baad review kar rahi hoon honestly mujhe ye serum bahut achcha laga🥰 ab tak jitna bhi mehngi night serum use kr rahi thi sab bakwas hai lekin is serum me baat hi kush alag hai meri skin glow ho raha hai dheere dheere. Thank u so much to team Oziva🙏🙏
🙏 Umid karti hoon product ki quality ko aisi hi barkarar rakhenge🥰
Once again thank you Oziva🙏🙏🙏
Hi Rashmi,
Thank you, we were just blown away by your positive words, and we are so happy that our product has worked wonders for you.
We are glad, we could make a difference and promise to maintain the same quality throughout.
Hope you stick with us for years to come!
Team OZiva
Serum is very smooth and light weight. All products from oziva are amazing. I am glad that they have come up with beauty care products also. Now along with taking care of my body internally , I can also take care externally also sulphate and paraben free product. Glowing enhancing blend which is non greasy and suits all skin types best and amazing product and also hydrates the skin and it absorbs completely which gives that extra shine to the skin the packaging also is so cute because of that small bottle me and my sister we both liked it. Oziva inner glow skin brightening serum is the best and amazing
Yeah I love this serum it's actually work
U should have to buy this serum if uh have dark skin and if u want your skin clean and brighter than I m recommend uh toh buy this love this ❤️❤️❤️❤️
Hi Paridhi,
Thank you so much, we are just blown away by your positive words for our plant based product, we really appreciate the time you took to share your experience with us.
Feedback like yours is valued by every team member here and it gives us the motivation to continue developing our products.
We look forward to serving you for many years to come!
Team OZiva
Serum that increase 3× Radiance.
I am huge fan of serums bcoz I love to do my skincare. So ,I bought this product.
It gives glow on my face, absorbs quickly into my skin & I think its really work for me.I dnt like the fragrance much.😳
It contains alma, tumeric, rice bran, saffron and licorice root.👍
Suitable for all skin type.❤️
Thank you so much oziva for making such an amazing serum.❤️ Oziva products are free from all harmful chemicals and it's vegan.
Give it a try 🙂
Hi Kanika,
It's lovely to hear your kind words of appreciation for our product.
Thank you for trusting us and we hope to be with you on your #aBetterYou Journey for a long time.
Do check OZiva Prime for a personalized consultation, lifestyle guidance & free diet plan.
Team OZiva
Choosing a selection results in a full page refresh.
Press the space key then arrow keys to make a selection.