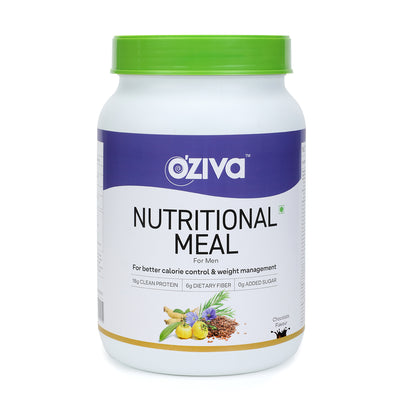 It's useful for weight loss?
Hi Mimi,
Thanks for supporting us with a five-star rating.
We would like to inform you that OZiva Nutritional Meal, Men is a perfect product for weight loss as it is a meal replacement shake that can help to reduce your overall calorie intake and as a result, lose weight.
Dosage - You have to take 1 scoop of Nutritional Meal in 250 ml of milk/water per day. You can replace any one of your main meals either breakfast, lunch, or dinner with the Nutritional Meal shake.
NOTE - 1. You should not have Nutritional meals on an empty stomach. Consume 3-4 liters of water daily
The results differ from person to person and depend upon the severity of your condition. You should continue its consumption regularly along with a proper diet and lifestyle and you should start seeing visible results within 3-6 months.
For more details, please connect with our expert team by clicking the link https://bit.ly/3LjsuQS and someone from our support team will connect with you at the earliest and assist you better.
Don't forget to check our cash and deals page for the latest discounts, coupon codes, and more.
Team OZiva
Best product
Got change in my weights with my diet
Hi Nikhil,
Thank you for the 5 Star rating. We can't thank you enough for the kind words about our product. Your review means a lot to us and lets us know we're on the right track!
Do check OZiva Prime for a personalized consultation, lifestyle guidance & a free diet plan.
Team OZiva
Less calories more nutrients
I read about this shake and i thought of ordering it and giving it a try.... i found it really interesting so ordered it... 1. First thing is first this stuff is just soooo damn TASTY... it makes me feel like I am having chocolate shake . 2. It makes me really full and i dont feel hungry any time soon 3. It contains 18g of whet and casein protein so it is a great option to include in vegetarian diet plan , as it will give you the proteins you need. 4. Lastly i feel so energetic and light after including this as a meal i can already feel my body loving it . I.... i am totally loving it ❤️
Hi Sonali,
Thank you so much for your positive feedback! ❤️
We are so delighted to know that your experience has been excellent with us till now and we'd love to continue providing great products to awesome customers like you.
Hope to be with you on your #aBetterYou Journey for a long time. :)
Team OZiva
Go for it & Loss 4-5kg per Month
Great Product after doing Two times workout in the evening i take shake one time it feels so great after having it n tummy also feels like full loosing 5kg per month easily but Don't forget consistency is the key n give yourself small targets to achieve big one…100% buy worth every penny.
Hi Nikkhil,
We are built to provide the best plant based products to our customers. We can't thank you enough for taking the time to share your feedback and reminding us why we do what we do.
Team OZiva
Have been using the product for 4 days. Blends well with milk or water. Taste is good no sugary kick thank god. Didn't leave me feeling bloated. Has reduced my food cravings considerably. I usually have 250ml of milk with a scoop of the powder at 6pm. Combine this with a good exercise regime and u should be losing weight soon enough.
Hi Mithun,
Thank you for the awesome review about our product. ;)
Well, consume it for at least 3-6 months along with a proper diet and lifestyle for the most promising results.
Don't forget to check our cash and deals page for the latest discounts, coupon codes, and more.
Best,
Team OZiva
Choosing a selection results in a full page refresh.
Press the space key then arrow keys to make a selection.