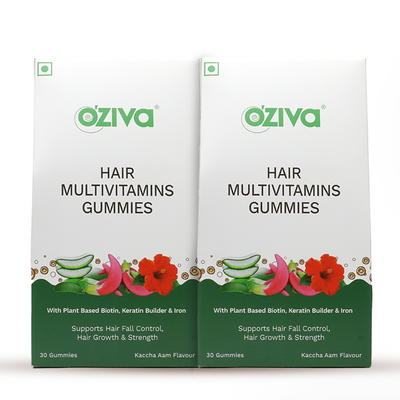 I have always been someone who suffers from hair fall. I know that losing some strands is normal but with the increasing stress, pollution the amount doubled. This is when I started taking my issues seriously. I tried various oils, which didn't help and I am someone who always misses out on medicine, for some reason I just can't remember to take them on time.
This is when I realized that there are hair gummies available in the market but most of them have sugar/artificial sweetener and this was something I was avoiding for my health. That's when my friend suggested I try Oziva hair gummies, these gummies do not have artificial sweeteners and therefore fit my requirements. Also they are separately packed so I can carry it very easily in my pocket, bag, wallet and this tends to act as a reminder. I have been consuming this from 3months and have definitely seen benefits.
1. My hair fall has reduced - it makes me happy to not see my hair all round the house and on my pillow in the morning.
2. Since this also have keratin blend this has given my hair extra shine and smoothness
I do feel that the hair volume has increased and I absolutely love my hair now.
Thanks oziva for this amazing product..!! I would for sure recommend this product to everyone. You should give it a try. In case there is any confusion on when to consume this product or how to consume, thei
Hi Anita,
Thank you so much for your positive feedback! We're thrilled to hear that our product has worked wonders for you.
Our whole team works very hard to keep our customers happy, but we can only do it thanks to amazing customers like you.
Thanks again, and we hope to guide you in the process of making a better version of yourself!
#aBetterYou
Team OZiva
Nice one, easy to use and chew
I'm amazed by using this Biotin based gummies. These are really very good in taste. Easy to chew, quite well and easy process for daily usage. These gummies seems to be gluten free and seems to be quite effective. Nice one and enjoying using it.
Hi Vanshika,
We are so happy to hear this!
Thank you for the positive feedback- it means a lot to us and lets us know we're on the right track!
We are happy that you are happy! ❤
Team OZiva
Amazing product especially for dull and hairfall
I have started loosing hair post delievrry and I was very much worried about hair loss.. thanks to oziva hair gummies it's got my hair back to normal..
Hi Sonali,
Thank you so much for the positive words! You truly made our day.
We are so happy to know that our product has helped you out.
We are glad, we could make a difference.
Hope you stick with us for years to come! ❤
Team OZiva
Hi Inaya,
Thank you for taking the time to share your feedback.
We are really happy to hear that you love these gummies. Your review made our day and motivated us to work harder.
Do check our cash & deal page for amazing discounts.
Team OZiva
Super Product, Hardly you find something like this. Happy to use this.
Hi Kavya,
Thank you for being the reason we are smiling today. Your 5 Star review made us very happy.
Thank you for taking the time to share your feedback. Your kind words encourage us greatly.
Do check our cash & deal page for amazing discounts.
Team OZiva
Choosing a selection results in a full page refresh.
Press the space key then arrow keys to make a selection.